About Ai13
The Ai13 team spent years in the oil and gas industry, learning how to develop high-quality equipment for that sector. Due to the economic downturn that resulted from the COVID-19 crisis, owner Troy Beckstead was suddenly forced to think of other ways to generate income.
That need, combined with Troy's unhappiness with standard gas can spouts, led to the development of the Universal Flex Nozzle. This revolutionary product is a simple, reliable spout for your Blitz-style gas can. Ai13 also sells universal gas can caps that replace worn-out old base caps.
Feel free to contact us with any questions you have about these products. We will get back to you as soon as possible.
Customer Reviews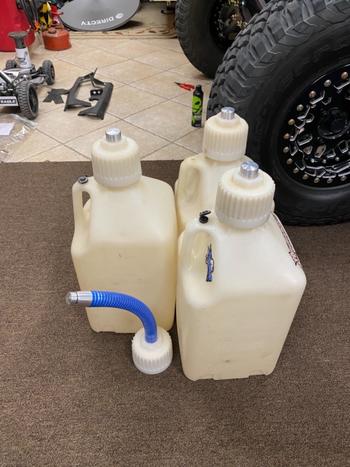 12/27/2020
Super happy with the quality
The hose is spectacular The cap covers are cool I don't have to find a special tool to swap hoses, looks very nice too. Definitely stands out amongst all the gas cans at my camp. Will be buying more soon.
david r.

United States
12/28/2020
Ai13 Billet Products
Hi David! We're so happy to hear that you love your Jug Plugs and Race Nozzle. Thank you for your review and spreading the word, it helps our small business grow!
03/04/2021
Better design
This jug plug is an improvement over pvc because it uses an o-ring to seal instead of the tightness of the threads so it is easier to manage by hand.
Daniel R.

United States
01/26/2021
Worked great
Great. Easier to use than the plastic ones.
Mark L.

United States
01/17/2021
Great product
Item was perfect. Great quality and attention to detail. Fit perfect.
Tanner V.

United States